Welcome to the Nighttime Talk Blog – the go-to place for ideas about what to discuss with children at bedtime.
April is Earth Month
Earth Month is a great theme for your nightly bedtime discussions throughout the month. Since 1970, countries around the world have used this month to raise awareness of the need to protect Earth and its natural resources. Educating children about the importance of protecting our planet and how they can make a difference will raise them to be environmentally conscious people and advocates for their own future.
Bedtime Conversation Starters
Below are a few topics, each with several conversation starters included. Pick one and then start your talk with, "Did you know?" During the talk, allow time for the child to respond and ask questions about the topic. If you don't know the answer to their question, look it up!
Earth: Earth is a planet. Earth rotates around the sun and has been around for 4.5 billion years! Earth is made up of air, water, and land. Millions of species of animals and plants live on Earth. Why is the Earth important? What do you know about the Earth? What questions do you have about the Earth?
Ocean: The ocean is a large body of salt water. The ocean covers more than 70% of Earth's surface! Many animals and plants live in the ocean, like fish and seagrass. What do you like about the ocean? What is your favorite ocean animal?
Land: Land makes up about 30% of Earth's surface! Land comes in many forms, like mountains, valleys, deserts, and forests. Homes and communities are built on land. Many animals and plants live on land, too. Where do you live? What is your favorite plant?
Weather: Weather is what it is like outside. Weather can be many things, like warm, cold, windy, and rainy. What was the weather like today? What is good weather for playing outside?
Pollution: Pollution is something that makes Earth unhealthy. Air, water, and land can be polluted by things like garbage. Throwing garbage on the ground and in the ocean harms the animals and plants that live there. What is an example of pollution? What is one thing that you can do to reduce pollution?
Recycle – Reduce – Reuse: Recycling is taking something and turning it into something new. When you recycle a cardboard box, it can be turned into sheets of paper, tissues, and more! Not everything can be recycled, like many plastic products, which is why it is important to reduce buying those products or find different uses for them. What is something in your home that you can recycle or reuse?
Protecting the Earth: Earth is our home and we need to take care of it so it stays healthy. A healthy Earth means healthy people, animals, and plants! Everyone can do things to protect the Earth. What is one thing you can do to take care of the Earth? 
Book Recommendation
After all that talk, your child will enjoy reading: I Love the Earth by Todd Parr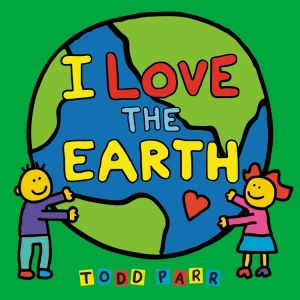 Where to Buy: https://www.toddparr.com/titles/todd-parr/i-love-the-earth/9780316480215/
Book Description:
"I take care of the earth because I know I can do little things every day to make a BIG difference…"
With his signature blend of playfulness and sensitiviy, Todd Parr explores the important, timely subject of environmental protection and conservation in this eco-friendly picture book. Featuing a circular die-cut Earth on the cover, and printed entirely with recycled materials and nontoxic soy inks, this book includes lots of easy, smart ideas on how we can all work together to make the Earth feel good – from planting a tree and using both sides of the paper, to saving energy and reusing old things in new ways.
Best of all, the book includes an interior gatefold with a poster with tips/reminders on how kids can "go green" everyday. Equally whimsical and heartfelt, this sweet homage to our beautiful planet is sure to inspire readers of all ages to do their part in keeping the Earth happy and healthy.
Subscribe to receive more bedtime conversation starters: